MEXICO'S UNDISCOVERED BEACH
---
Premium Mexico Links
* Discount Mexico Insurance by Mexbound * Discount Vacations by Mexico Travel Net
* Villa Rentals by Earth Sea Sky Vacations * Marina Costa Baja - Live the Dream Now!
---
MEXICO'S UNDISCOVERED BEACH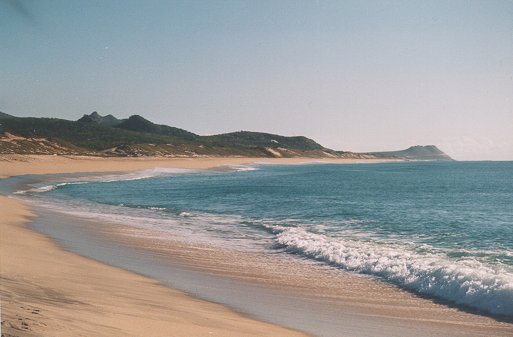 "Mexico's Undiscovered Beach"
"Sometimes you think about this beach, sometimes you don't. But whether or not you think about it, it is here, every day, waiting.
You may be in traffic, going somewhere in a hurry, rushing. This beach is still here.
You may be distracted by the many dramas passing through your life, not even thinking about it. But it is here, always here, waiting.
Where is this beach? That is for you to find out. Forget life's destinations long enough to enjoy the day to day journey of hidden beaches, time with friends, and the simple joys of just being alive."
~ Carlos Fiesta
Carlos Fiesta's Hot Tip
Aside from all-inclusive resorts, most hotels in Mexico really don't care if you walk into the front lobby and onto the grounds to check out the facilities. This is a great way to preview hotels and discover great beaches, and to take a dip in the ocean for a refreshing swim. These same hotels are also more than happy to sell you a margarita at thier ocean view bar. Cool!