SURFING MEXICO
---
Premium Mexico Links
* Discount Mexico Insurance by Mexbound * Discount Vacations by Mexico Travel Net
* Villa Rentals by Earth Sea Sky Vacations * Marina Costa Baja - Live the Dream Now!
---
SURFING MEXICO
Mexico and surfing go together like the Rocky Mountains go with snow skiing and boarding. They were each meant for each other. With thousands of miles of coastline exposed to Pacific Ocean swells, there's always a swell pumping somewhere in Mexico.
Mexico has two distinct surfing locations...the west coast and Cape sections of the Baja Peninsula, dangling just below the U.S. / Mexico border, and mainland Mexico hosts waves from Mazatlan south to Huatulco.
Road trips are common for Baja surf adventures and most of the surf trips in Baja are drive down getaways. From short one and two day trips to the local surf breaks south of Rosarito Beach, to longer drive down trips to Punta Abreojos and Scorpion Bay, it's all good.
The northern section of mainland Mexico's coastline is blocked by the Baja Peninsula, so waves don't make it up into the Sea of Cortez much past Mazatlan. But from Mazatlan south there are plenty of surf breaks, including Trancones near Ixtapa and monster sliders and tubes at Puerto Escondido further south.
Swell direction is a key element in where the waves are breaking in Mexico. Northern Baja will catch swells from the north and northwest, but below Punta Eugenia most north swells have a tough time making the wrap around Baja's hook.
South swells are the hot tip for most of Mexico because much of Mexico's coastline is facing southwest. These south swells are usually generated by storms in the mid Pacific, chubascos off of mainland Mexico, and from weather systems in the southern hemisphere.
Not all south swells make it too Mexico's best surf breaks because of the small window some breaks have for waves. As an example while overhead swells pumping up from 190 degrees might light up the points at Scorpion Bay, a swell from 170 degrees might provide lake-like conditions at that same location.
Ocean water temperatures in Mexico vary significantly. The waters off of the northern section of the Baja rarely hit 70 degrees when they top out in August. But from Baja's Punta Eugenia south to Cabo San Lucas the water temperatures swings significantly. While the ocean temps might 60 degrees in Scorpion Bay in May, 400 miles down the coast in Cabo the water will be in the mid 70's.
The 'tropics' in Mexico runs from Cabo San Lucas (on the Baja Peninsula) and Mazatlan (on the mainland) south. These tropical waters rarely dip below 70 degrees and can get into the upper 80's by mid summer. Trunks? We don't need no stinking trunks! Sweet.
Good waves are no longer a secret in Mexico. So when your favorite south of the border surf break is pumping, don't expect to be surfing alone. The crowds will certainly be less than the popular surf breaks at home, but sharing the waves with others is now part of the game in Mexico.
With few exceptions, Mexicans do not share the same 'locals only' syndrome that have given California surf spots like Lunada Bay and The Ranch a bad name. If you get bad vibes or snaked on a wave in Mexico it will probably be from another Gringo. But it's not common.
In general it's a good idea to head south with all that you will need for the duration. Wax, beer, maybe an extra leash, beer, some fresh water to rinse off with, beer, and plenty of good tunes. And don't forget beer. If you don't remember to bring beer...no problema. You can buy cold cervesa almost anywhere in Mexico....as it should be.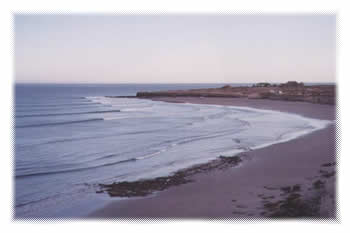 Carlos Fiesta's favorite Mexico surf spot.
MEXICO SURF LINKS