LAS HADAS, MEXICO
---
Premium Mexico Links
* Discount Mexico Insurance by Mexbound * Discount Vacations by Mexico Travel Net
* Villa Rentals by Earth Sea Sky Vacations * Marina Costa Baja - Live the Dream Now!
---
LAS HADAS RESORT
Who can ever forget the scene in the movie "10" of Dudley Moore running on the beach towards a bouncing Bo Derick, with the spires of Las Hadas in the background. Well, most folks didn't happen to notice the resort in the background because Bo Derick did a great job of garnering the attention of most of those in the audience.
This movie did put Las Hadas on the map, but it wasn't just because of Dudley and Bo. It is indeed a resort of amazing amenities and spectacular architecture. As a matter of fact Las Hadas holds the special distinction of being the resort that has taken up more film from Carlos Fiesta's camera that any other resort he has been to. And that's saying something.
Las Hadas was the dream child of Don Atenor Patino, a man who loved to dream big and found the perfect cove to execute his fantasy. Located on Mexico's jungled west coast just north of Manzanillo, Las Hadas occupies a great beach and the nicest protected cove in the area.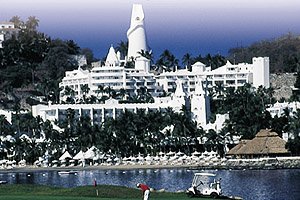 The Moorish architecture dominates the resort from the time one pulls up to the main gate at the entrance to the landmark white cabanas on the beach. It is a photographers paradise with different spires, arches, towers, angles and great photo opportunities at every turn.
Las Hadas is a destination offering much more than a regular resort. The marina is world class and can accommodate yachts small and large, the Pete and Rose Dye Golf Course has been ranked as one of the Top 100 Courses in the World, and Las Hadas even offers it's own diverse shopping area.
Carlos Fiesta's favorite part of Las Hadas is the pool. This large free-flowing pool is complete with a large swim-up bar and is located just steps from the beach. Don't be surprised if a large poolside Iguana tries to eat the slice of pineapple from your Pina Colada!
The rooms at the resort range from Deluxe, Beach Club and Fantasy Suite. Some of the rooms are located close to the beach and pool, other are further back in the hills. A tram is available for those who don't want to walk around the large resort grounds.
Las Hadas offers a great beach, a refreshing pool, several restaurants, a piano bar, a swim-up bar, 10 tennis courts, and a selection of water sports that will make you forget all about Bo Derick. Well, maybe not.

Avenida Vistahermosa, Peninsula de santiago, Manzanillo, Colima, Mexico, 28867.
E-mail: brisashotels@brisas.com.mx.
Web site: www.brisas.com.mx.
Number of rooms: 223.
Deluxe, Beach Club and Fantasy Suites.
On the beach.
Hotel amenities: 70 slip private marina / 2 pools / restaurants / bars / 10 tennis courts / fitness center / car rentals / secure parking / laundry / 24 hour front desk / business center / meeting facilities / shops.
Room amenities: Cable and satellite television / mini-bar / air conditioning / alarm clock radios / safety deposit box / balconies / room service.
Currency: US dollar.
Credit cards accepted.
Review their web site for additional information.