LAS ALAMANDAS, MEXICO
---
Premium Mexico Links
* Discount Mexico Insurance by Mexbound * Discount Vacations by Mexico Travel Net
* Villa Rentals by Earth Sea Sky Vacations * Marina Costa Baja - Live the Dream Now!
---
LAS ALAMANDAS
Where do the rich and famous go to escape their fans and live the life of luxury that they have worked so hard to attain? Welcome to Las Alamandas, acclaimed by some to be the finest beachfront hotel in Mexico. One visit to this playground of the elite and you will see why there is no other resort in the world quite like it.
Located on 1,500 spectacular acres of jungled coast in the Mexican west coast hideaway of Costa Alegra, there are many reasons why an increasing number of US celebrities pack their Gucci bags and head south to Las Alamandas. The fact that it is just a few hours south of the States and in a similar time zone as their own homes is just one of the reasons. Sure, Neva is a great escape for celebs, but who wants to spend two days traveling to and from the Caribbean?
The other reasons that this resort shines above the rest are plentiful, not the least of which is privacy. Try to put yourself in the shoes of the average guest. If you were Brad Pitt or Madonna wouldn't you want to escape to a place where you could be pampered in style and not have to worry about signing autographs or dodging crazed fans on the way from your bungalow to the beach? At Las Alamandas privacy is paramount.
Service is another reason that those in the know (and in the doe) choose Las Alamandas. Isabel Goldsmith designed the resort with only 14 suites and a staff of 99 people to pamper the special few who choose to hang their sombrero at Las Alamandas. The needs of guests are the main focus of every employee at the resort.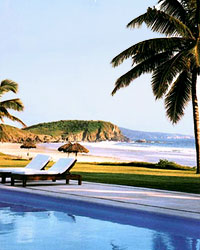 Dining at the Oasis Restaurant is special. Picture yourself on a candlelit terrace in a lush palm grove on the beach at the water's edge with relaxing music and palm frons rustling in the warm early evening breeze. Plates include Mexican specialties, continental dishes, fresh fish (caught daily) and local free-range chicken. Fruits and vegetables are grown organically on the property.
The Palapa Beach Club could very easily be the center of the Universe for Mexican vacations. This oversized, thatched palapa is adjacent to the fresh water swimming pool and serves as a focal point for guests who want to enjoy a little shade in between sunning and swimming. La Palapa also serves as a beach bar and the perfect place to enjoy a casual lunch.
Accommodations at the resort are elegant but not brash. The property consists of six villas making up 14 suites for a total of 28 guests. The villas have tall high pitched tile roofs, shaded terraces and white ceramic floors. Decorated walkways wind through tropical gardens to the entrance of each unit. Rooms feature mini-bars, oversized baths and showers, bidets, private terraces and large living areas.
Las Alamandas is an unspoiled tropical paradise, complete with white sand beaches, lush gardens, blue lagoons, flowing rivers and a sanctuary to over 100 exotic bird species. Take a tip from Carlos Fiesta...sell your house, take the cash and spend a week or two in Las Alamandos.
Telephone 011-52 (322) 285-5500.
Fax 011-52 (322) 285-5027.
US Toll Free (888) 882-9616.
San Patricio Melaque 210, Puerto Vallarta, Mexico, 48980.
E-mail: infoalamandas@aol.com.
Web site: www.lasalamandas.com.
Number of rooms: 14.
Premium Suites, Premium Oceanfront Junior Suites, Premium Oceanfront Suites, Premium 2 bedroom Oceanfront Suite.
On the beach.
Hotel amenities: Pool / restaurant / bar / tennis court / fitness center / free parking / laundry / 24 hour front desk / babysitting and child services / business center / meeting facilities / boutique.
Room amenities: Television with cable / AM-FM alarm clock / hairdryer / mini-bar / room service.
Check in time: 12:00 pm / check out time: 1:00 pm.
Currency: US dollar.
Credit cards accepted.
Review their web site for additional information.